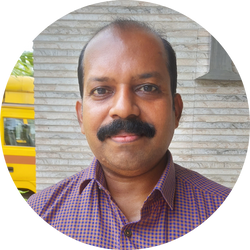 Dr. BENJAMIN E                                                        Qualification: MBA, M Phil, LLM, PGDJM, Msc (Psychology), M.A (Sociology), PhD
Dr. Benjamin began his career in 2001 as a Practicing Advocate at Trivandrum District Court. After serving for three years, he moved into academics, teaching Law at both Central Law College, Salem and Govind Ramnath Kare College of Law, Goa. He then associated with several renowned Management Institutions in Kerala, before joining Holy Grace Business School as an Associate Professor.
He has taken part in numerous Faculty Development Programmes and has presented over 20 academic papers in National and International Conferences. Along with publishing five academic articles, Dr. Benjamin has also published a book titled 'The Law of the Sea Dispute Settlement Mechanism, Procedure, practice and enforcement'.
 Title: "Role of legal education in developing country like India. Published in University News, (Association of Indian University publication, published from Delhi) vol. 44, no.18 May/ to 7- 2006 page 15-16.
 Title: Coherent Economic Policy for Social Development: A Treatise Publisher: Allied Publishers Pvt, Ltd, New Delhi, ISBN:978-81-8424-419-9 First Published:2009

Title: Consumer Protection and Sustainable Consumption for the Global consumer- The United Nations Approach Publisher SNAMS Book House Private Ltd, Chennai. ISBN NO: 978-81-9066-719-7 First Published January 2010, Published by Indian Institute of Public Administration, New Delhi

Title:The UN Convention against Corruption and Development Cooperation forPrevention by more Efficient Law EnforcementPublished By Gopi Arts and Science College, Gopichetipalayam, Erode,ISBN Number 978-81-910200- 4-5, Published on August 2011

 Title: Corporate Social Responsibility and Developing Countries, the scope for government action, Published by SCITECH Publications Pvt Ltd, Chennai, ISBN No: 978-81-8371-388-7 Published on July 2011

Title: :Bio-Diversity and Globalization: Does it Reduce National Sovereignty in Economic policies of Developing countries" Published by Athenian Policy Forum (APF) Press(Toronto,Canada) book Published: December 2009