Masterminds General Quiz Competition
General Quiz Compentition
Feb 4 – 2023
Saturday
Holy Grace going to conduct a family Mega Exhibaition named Holy Fair Fiesta on  9 to 11 of December 2022
Fun | Food | Fashion | Muzic | Tech Expo | Art
Biggest Exhibition in Mala, Thrissur….
Faculty Development Program
Faculty Development Program on Research Methods and Data Analysis.
Organisers: Holy Grace Academy of Management Studies, Thrissur in association with Kerala University of Fisheries and Ocean Studies, Kochi
Date and Timing: 16-19 August, 2022 (10.00 am – 04.00 pm)
Resource Person: Dr. Sreejesh S, Associate Professor, IIM Kozhikode
Contact Persons: Dr. E Benjamin – 8921182112, Dr. Salini B Nair – 9633708488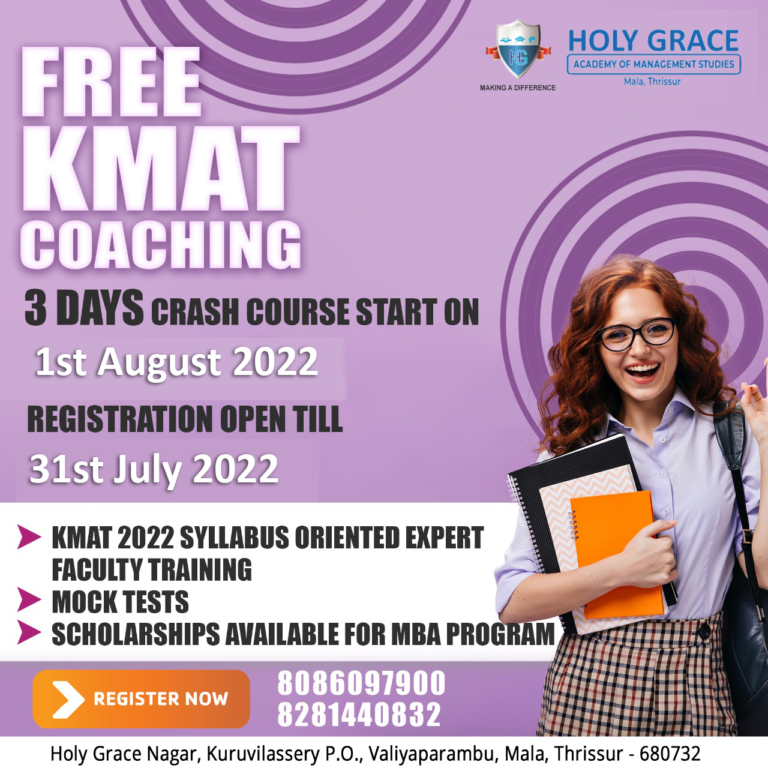 𝑮𝒓𝒂𝒃 𝒀𝒐𝒖𝒓 𝑺𝒆𝒂𝒕𝒔 𝑰𝒎𝒎𝒆𝒅𝒊𝒂𝒕𝒆𝒍𝒚…
𝐹𝑟𝑒𝑒 3-𝐷𝑎𝑦𝑠 𝐼𝑛𝑡𝑒𝑛𝑠𝑖𝑣𝑒 𝐾𝑀𝐴𝑇 2022 𝐶𝑜𝑎𝑐ℎ𝑖𝑛𝑔 @ 𝐻𝑜𝑙𝑦 𝐺𝑟𝑎𝑐𝑒 𝐴𝑐𝑎𝑑𝑒𝑚𝑦 𝑜𝑓 𝑀𝑎𝑛𝑎𝑔𝑒𝑚𝑒𝑛𝑡, 𝑇ℎ𝑟𝑖𝑠𝑠𝑢𝑟…
𝐁𝐞𝐧𝐞𝐟𝐢𝐭𝐬 𝐨𝐟 𝐊𝐌𝐀𝐓 𝐂𝐨𝐚𝐜𝐡𝐢𝐧𝐠 @ 𝐇𝐨𝐥𝐲 𝐆𝐫𝐚𝐜𝐞
#Learn from Experts who are Highly Experienced in the area of Competitive Examinations (CAT, CMAT, KMAT)
#The participants will become Confident in Cracking KMAT comfortably
#100% Result in Last Year KMAT Coaching
#Individual Attention to all Participants
#Extensive Coverage on every area of KMAT Exam


Holy Grace Academy of Management Studies conducted OBT Programme for first Year MBA students at Athirapally River Resort.  Holy Grace B School – A world-class B School located in the blessed ambience of Mala in God's Own Country Kerala.