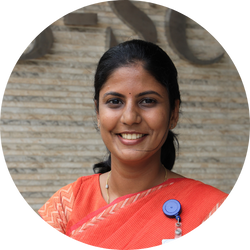 Ms. Megha Varghese                                Qualification: B.Tech, MBA
Ms. Megha Varghese started her career as a Digital Marketing Analyst with Indocert, Aluva. She is a certified expert in RA Sustainable Agricultural Audit and in Virtual Training on Cyber law and Security (By CII). She has taken part in several management education programmes, and won an accolade in 'Networking 2015', a national level infrastructure management competition.
Her areas of interest include ARM, RTOS, VLSI design and fiber optics technologies, marketing research, financial management, and human resource management. She joined Holy Grace in early 2021 and has been a vital part of the team, coordinating various academic and non-academic activities in connection with the course.